ITIL 4 Strategic Leader Stream
ITIL 4 Strategic Leader (ITIL SL) recognizes the value of ITIL, not just for IT operations, but for all digitally-enabled services. Becoming an ITIL SL demonstrates that the individual has a clear understanding of how IT influences and directs business strategy.
ITIL 4 Strategic Leader consists of two modules:
Accredited training for the ITIL 4 Strategic Leader modules is mandatory to enable full understanding of the core material. ITIL 4 Foundation is a pre-requisite for all modules. In addition, the ITIL Leader modules requires a minimum of three years of IT managerial experience.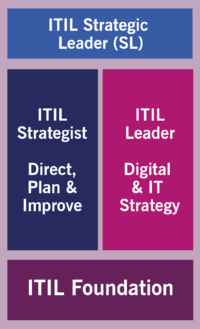 ITIL 4 Strategist Direct Plan & Improve
This module provides individuals with the practical skills necessary to create a 'learning and improving' IT organization, with a strong and effective strategic direction.
The module covers the influence and impact of Agile and Lean ways of working, and how they can be leveraged to an organization's advantage. It will provide practitioners with a practical and strategic method for planning and delivering continual improvement with the necessary agility.
ITIL Strategist Direct Plan and Improve is aimed at managers of all levels involved in shaping direction and strategy or developing a continually improving team. It will cover both practical and strategic elements.
Therefore, it is the universal module which will be a key component of both streams, ITIL 4 Managing Professional and ITIL 4 Strategic Leader. If you want to know more about this module visit the page ITIL 4 Strategist: Direct, Plan & Improve.
ITIL 4 Leader Digital & IT Strategy
This module will focus on the alignment of digital business strategy with IT strategy. The module also covers how disruption from new technologies are impacting organizations in every industry and how business leaders are responding.
The pace of evolution in the digital world has never been so fast and organizations need to be flexible and adapt to the ever-changing environment if they want to keep providing value to their customers while remaining competitive in the marketplace.
The IT & Digital Strategy module adds a new perspective to the ITIL suite and elevates the discussion around ITIL concepts to a strategic level among business leaders and aspiring leaders. The module will help IT leaders and aspiring leaders build and implement effective IT and digital strategy that can tackle digital disruption and drive success. More info on this module will be released in the first half of 2020.
Launch dates for the modules:
ITIL 4 Strategist: Direct, Plan and Improve – 8 November 2019
ITIL 4 Leader Digital and IT Strategy – first half of 2020.