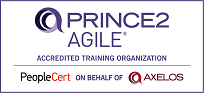 PRINCE2 with Agile Training & Exam
PRINCE2 Agile™ is a solution combining the flexibility and responsiveness of agile with the clearly defined framework of PRINCE2®. PRINCE2 Agile framework covers a wide range of agile concepts, including SCRUM, Kanban and Lean Startup.
A successful Practitioner candidate should be able to start applying the method to a real project but may not be sufficiently skilled to do this appropriately for all situations. Your individual project management expertise, complexity of the project and the support provided for the use of PRINCE2 Agile in your work environment will all be factors that impact what you can achieve.
This PRINCE2 Agile training a three day classroom based course designed for PRINCE2 practitioners who want to be able to combine their skills with Agile methods. The course begins with an overview of the basic concepts of common Agile ways of working and progresses to being able to apply or tailor the PRINCE2 principles to a project in an Agile context.

ORGANIZATIONS
Improve your Business with PRINCE2 Agile
Agile methods allow organizations to realize the benefits of products and potentially an earlier return on investment while products are being developed and improved.
Improved communication through the use of common terminology across PRINCE2 and agile disciplines.
Develop a clear definition of how agile can govern a project's delivery, whilst PRINCE2 governs projects as a whole.
Seamless integration: PRINCE2 Agile will complement PMBOK and APM Body of Knowledge just as PRINCE2 does currently. It will also be of interest for Programme Managers with MSP® who need to understand how projects relate to the delivery mechanism.
The most up-to-date and relevant view of Agile project management methodologies, PRINCE2 Agile references the 'flow-based' working featured in Kanban in addition to other agile concepts not covered in other qualifications.
INDIVIDUALS
Improve your Projects & Career with PRINCE2 Agile
Improved position in the job market and career progression within project and programme management by achieving the new PRINCE2 Agile qualification.
Recognized globally with an international qualification which demonstrates your ability to apply best practice approaches to managing any and every kind of project – no matter the size or scale.
A broad understanding of all of the key agile concepts and how these blend seamlessly into the PRINCE2 methodology.
Flexibility to work with both ever-evolving solutions and those that are clearly defined in detail
CONSULTANCY
Customize the PRINCE2 Agile method to your needs
QRP International is a company dedicated to providing consultancy and mentoring through PRINCE2 Agile certified consultants, to improve either your individual or organisational capability.
In addition to training, we provide a complete solution to ensure that the standards of the method are embedded and customised to your business environment.
More Information
Ask for more information
If you have any questions or would like to receive further information please do not hesitate to contact us using the form below.