PRINCE2 Agile

Certification
PRINCE2® Agile is a solution combining the flexibility and responsiveness of agile with the clearly defined framework of PRINCE2.
PRINCE2 Agile helps practitioners understand PRINCE2 governance requirements clearly and comprehensively. It also elaborates on the interface between PRINCE2 and agile ways of working. The certification provides structure, governance and controls when working with agile concepts, methods and techniques.
The PRINCE2 Agile certification scheme has two main levels, PRINCE2 Agile Foundation and PRINCE2 Agile Practitioner.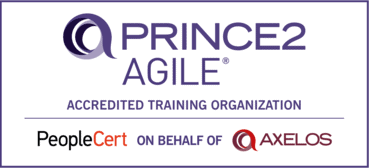 A complete agile project management solution

Onsite courses in Brussels

Also available in our Virtual Classroom
What is PRINCE2 Agile?
PRINCE2® Agile blends the flexibility and responsiveness of agile with the defined governance of PRINCE2.
Designed to help professionals tailor management controls when working in an agile environment, this certification helps practitioners to understand PRINCE2 governance requirements, agile concepts and techniques and the interface between them.
PRINCE2 Agile Training and Certification
QRP International is an accredited training organisation (ATO) for PRINCE2 Agile. Check our PRINCE2 Agile training formats and pick one that suits your needs or work best for your colleagues.
Allows to focus on both management and delivery
Helps you be on time and hit deadlines more consistently
Works with any established agile approach
Helps increase stakeholder confidence
Ask for more information
If you have any questions or would like to receive further information please do not hesitate to contact us using the form.
20+ years of experience

30,000+ professionals trained

Only accredited training