AgilePM® reaches 100,000 exams milestone! But why so popular?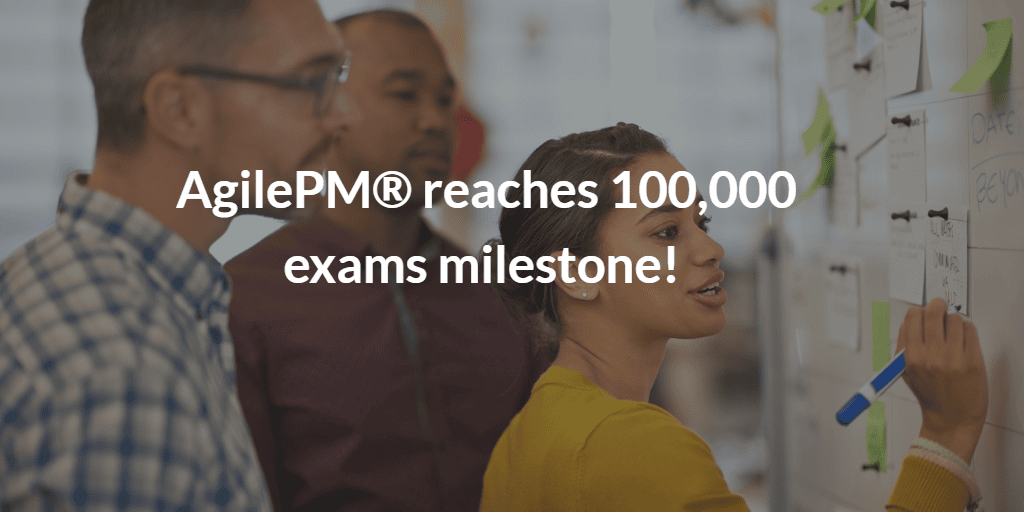 Agile's influence on the project management industry continues to rise at pace. More organizations and project professionals than ever are embracing Agile tools and frameworks as they aim to increase the success of – and return on investment from – projects and other change initiatives.
Since its introduction in 2010, AgilePM has fast established itself as the leading framework and certification for agile project management.
Published by the Agile Business Consortium, AgilePM guidance offers a practical and repeatable methodology that achieves an ideal balance between the standards, rigour and visibility required for good project management, and the fast-pace, change and empowerment provided by Agile. It offers a structured and scalable corporate Agile framework based on proven practice.
But why has AgilePM proven so popular? Here are some of the key features that contribute to its success.
A tried and tested corporate approach

: AgilePM is essentially a project manager's subset of the Agile Business Consortium's wider Agile Project Framework. The framework – established for over 20 years and regularly refreshed – provides governance and rigour along with the agility and flexibility demanded by organizations today.

Addresses the full project lifecycle (beyond product development)

: AgilePM offers a mature Agile approach that, whilst offering agility and flexibility, retains the concepts of a project, project delivery and project management. It goes beyond the realm of Agile product development approaches such as Scrum.

Quality & governance controls

: One of AgilePM's underlying principles is

Never Compromise Quality

. In an AgilePM project, high-level acceptance criteria is agreed at various stages throughout the project lifecycle, from initial requirements at the feasibility stage, to objectives for each stage of product/solution development.

Risk management

: AgilePM provides practical ideas for managing risk, directly addressing many of the common risks associated with projects. The

Project Approach Questionnaire

provides an effective starting point for creating a clear, shared understanding of project risks and their mitigation.

Clear roles & responsibilities

: People working together effectively is the foundation of any successful project. AgilePM recognizes this and assigns clear roles and responsibilities to each person in a project, representing business, solution/technical, management and process interests.

Popular agile practices incorporated

: AgilePM incorporates and encourages a range of popular agile practices to support effective product and solution development, including MoSCoW Prioritisation, Timeboxing and Iterative Development.
NEED TO TRAIN YOURSELF AND YOUR TEAM?
If you're new to AgilePM and interested in knowing more, visit this page