From ITIL v3 to ITIL v4, everything you need to know about the update!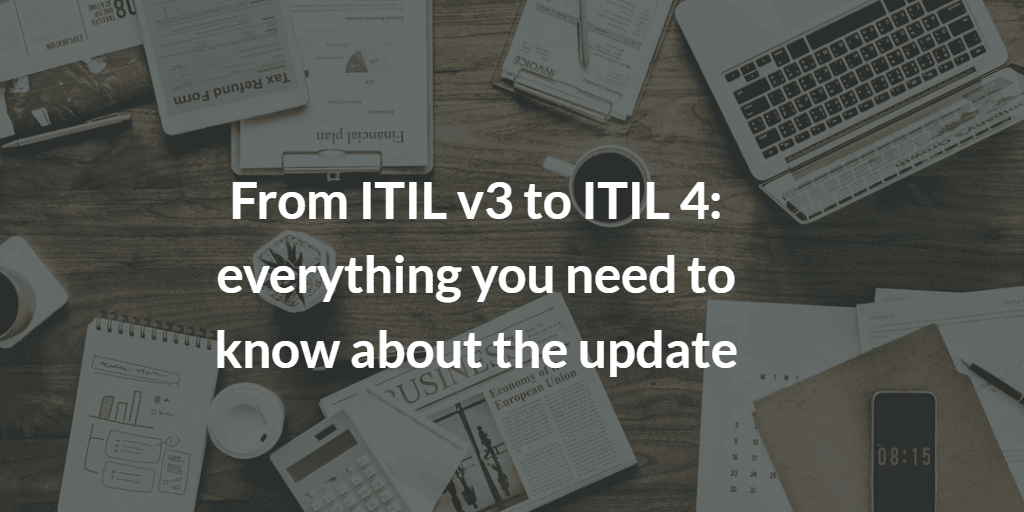 The ITIL® Best Practice framework is widely recognized  to be the most enabled IT best practice which provides a common language and tools that power collaboration within IT teams, to deliver value across the business.  Axelos, with the collaboration of field expert, decided to move a step forword to adapt the ITIL framework to the new IT business challenges. ITIL 4®, will be launched in 2019 and it will help businesses navigate the new technological era, commonly known as the Fourth Industrial Revolution. .
The ITIL version 4 framework is built on established ITSM practices and expands itself to the wider context of customer experience, value streams and digital transformation, as well as embracing new ways of working, such as Lean, Agile, and DevOps.
ITIL continues to support organizations and individuals to gain optimal value from IT and digital services but it needs to allow firms to keep pace with an ever faster and complex business environment which requires them to be agile and ready to changes.
ITIL 4 – How it has been developed?
AXELOS has engaged a diverse range of people in the development of ITIL 4 assembling a Global ITIL Development Group, which is made up of over 2,000 professionals.
ITIL V4 Certification path – what is new 
ITIL will continue to have an holistic aproach and is still composed in different levels based on distinct aspects of teh ITIL  best practice;
The levels Practitioner, Intermediate (ITIL® Service Lifecycle e ITIL® Service Capability) e ITIL® Managing Across Lifecycle will be replaced by new simplified modules;
The level ITIL Expert will be delated.
ITIL V4 Foundation will be launched on 28 February, 2019, the other modules in Q2 2019.
We have organized a free webinar focalised on  the update, our trainer Kaïs Albassir will explain all the changes between ITIL v3 and ITIL 4. The webinar is scheduled for March, 12 at 12:30. Save the date and subscribe by following the link: webinar "From ITIL v3 to ITIL 4: everything you need to know about the update".
What about your already achieved ITIL v3 credits and modules? Is there a transition module? We have collected all the most common questions answered for you by Axelos, download the article and get free of doubts!