QRP blows out Birthday Candles: We turn 20!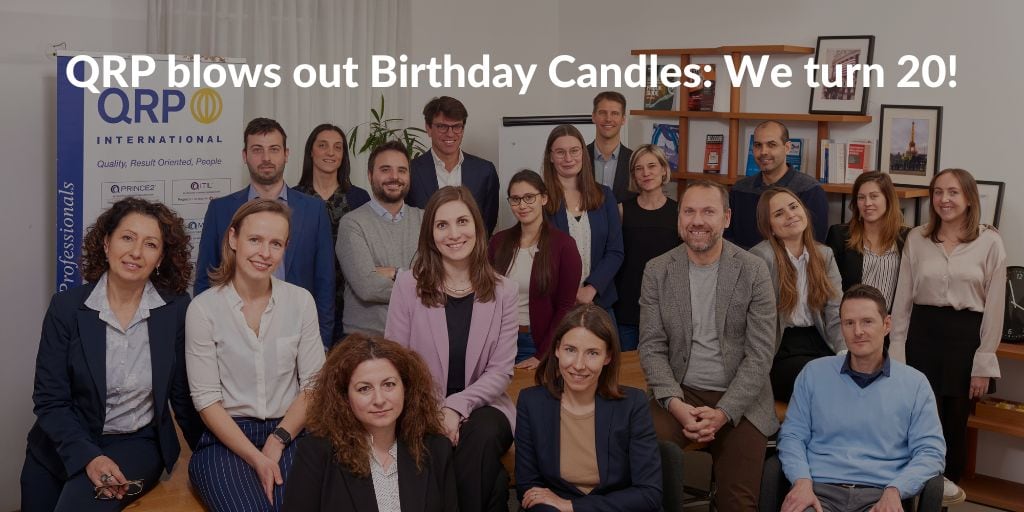 This May we celebrate the 20 year existence of QRP International. We are happy and delighted to have reached this milestone and look forward to the next 20 years!
The history and the DNA of QRP
Exactly 20 years ago, on a hot July day, our CEO Coos heard a strange noise coming from behind him. Wondering what it was, he looked around the small mediaeval flat on the walls of Bergamo's old town that he had rented when he decided to move to Italy. The strange noise came from the fax machine: he had just received his first ever registration for a PRINCE2 course!
After Coos organised his first PRINCE2 course (in Italian!) he decided to rent an office and to hire his first intern, a young university student by the name of Michelangelo, the current Chief Operating Officer of QRP International. This was the start of a team of 25 employees, with dedicated departments like operations, finance, marketing and sales growing over the years.
In 2006 already 1,000 people were trained by QRP International, and in 2008 the first million in revenues was celebrated. A specific market strategy for Belgium, France, Italy, Luxembourg and Switzerland was developed and these countries became the core of QRP International. In 2015 QRP started a dedicated blog on different topics related to Project, IT Service Management, Agile and Change Management that now reaches more than 200,000 annual visits. In 2020 we also started offering virtual classes due to Covid, besides the more traditional live classroom format.
Through all these years our main goal has been and still is to develop professionals to facilitate changes, which inspires our team and forms the value proposition of our company.
We cannot repeat our Core Values often enough:
We do our utmost to make our clients happy
We enjoy working together as a team
We keep our word
We are committed to our professional development
Awesome QRP Initiatives and Fun Facts about the Team
Besides organizing courses and developing professionals, QRP International also has devoted its time to charity. We strive to give back to our community by making a positive impact on society. QRP contributes €1 euro for each person trained in the fiscal year.
With regards to one of our team building activities, QRP has called into life the QRP Days. Born in 2007, the QRP Days bring the full team together for a day or two with the aim of learning from each other. During these days we also invite our trainers around the world to come visit us in Italy so we can get to know each other better. In this way, we live our values together.
And then some Fun Facts about the Team! We work with 75 trainers worldwide, we have count 9 different nationalities in our QRP office and we welcome new employees by treating the whole team to a brioche. Recently we organized a table-soccer competition during lunch breaks, and we go for a coffee walk every day after lunch.
Real insider tip: did you know that the most common QRP zodiac sign is a Capricorn?
QRP's Future
At QRP we work continuously to help professionals improve their skills and support both organisations as individuals throughout their learning journey.Our mission is to help clients when they are tired of losing time and money on their projects and processes. Our training courses can help unlock individual potential and achieve a higher level of structure and efficiency in the organisation, leading to an increased productivity.
In order to do so, we plan to expand our business beyond the countries that are already operational and to establish a presence in other mature markets across Europe. We stay close to our Core Values, both for working with our clients as for the relationship with our own employees. Through great social initiatives that keep developing, we continuously value having fun together as a team; we only just established our QRP Social Committee! We're just getting started…
As in 2023 we celebrate our 20th anniversary, we are grateful that we had the opportunity to work with many great clients and help many professionals achieve their goals. We look forward to continuing this journey of providing the highest quality training solutions to our clients, and to contribute to their ongoing success.
For our 20 years of success we have to thank not only our clients but especially our trainers which lead us in a bright future and make us such a competitive business.
Do you know who is behind QRP? Meet our team and follow us on Linkedin!