The new ITIL 4 modules: continue your journey after ITIL 4 Foundation!
Nowadays IT leaders and IT professionals are faced with an increasingly fast and demanding world. They must deliver effective IT services at an increasingly rapid pace, meeting an extreme competitive demand. In order to successfully face all these challenges, there is only one imperative: improve skills.
ITIL 4 expands on previous versions by providing a practical and flexible basis to support organizations on their journey to the new world of digital transformation.
The applicability of ITIL is now much broader, with a particular emphasis on
the world of business and technology,
how it works today,
how it will work in the future with Agile, DevOps, Lean, IT governance, leadership,
digital transformation.
You got ITIL 4 Foundation certification.
What about other ITIL v4 modules?
After obtaining the ITIL 4 Foundation certification, continue your ITIL journey with three different paths:
ITIL Managing Professional (ITIL MP)
ITIL Strategic Leader (ITIL SL)
ITIL Pratice Manager (ITIL PM)
The final designation, ITIL Master, will be awarded to candidates who achieve the Practice Manager (PM), Managing Professionals (MP) and Strategic Leader (SL).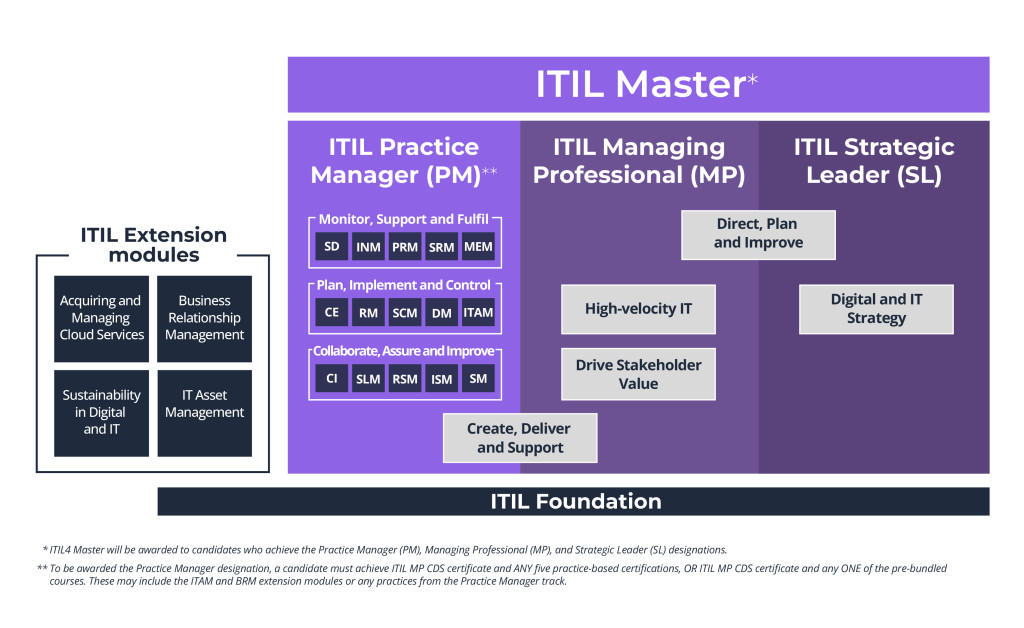 1. The Managing Professional stream provides practical and technical knowledge about how to run successful IT-enabled services, teams and workflows. ITIL 4 Managing Professional consists of four modules:
2. The Strategic Leader stream recognizes the value of ITIL, not just for IT operations, but for all digitally-enabled services. Becoming an ITIL SL demonstrates that the individual has a clear understanding of how IT influences and directs business strategy.
ITIL 4 Strategic Leader consists of two modules:
ITIL Strategist: Direct, Plan & Improve (

common module between ITIL SL and ITIL MP

)
3. The individual practice courses are intended for professionals that want to prove and validate their skills in specific practice areas.
To achieve the Practice Manager designation, you need to have completed 5 individual practices plus the ITIL Specialist: Create, Deliver and Support module (common module between ITIL MP and ITIL PM).
ITIL Training
QRP International is an accredited training organisation (ATO) for ITIL. Check our ITIL training formats and pick one that suits your needs or work best for your colleagues.
Do you have questions about ITIL 4 Streams?
Do you want to train your team or would you like to understand which module is right for you?
Write to us at belgium@qrpinternational.com.
Do you want to stay up to date on ITIL 4 and the streams after ITIL Foundation?
Sign up to our newsletter!